Sports for Development
The Sports for Development department in the MoYSD aims to provide and support opportunities to equip the people of Vanuatu, especially young people, to actively participate and contribute in positive ways towards national development. The MoYSD's objective is to assist identify partner organization within Vanuatu to increase the engagement of young people in social development programs through their participation in sports base activities.
The youth of Vanuatu are the cause of issues of concerns in the community and only them know how to solve it. They need the support if chiefs, leaders and nation as a whole to empower them and instill that confidence in them, they know how to solve their own issues themselves. Promote and support them to stand out to be leaders of their own communities. Youths are very powerful if you give them that opportunity. Sports for Development aims to utilize the youth of Vanuatu to their full potential through participation in sports and organizations larger than themselves.
---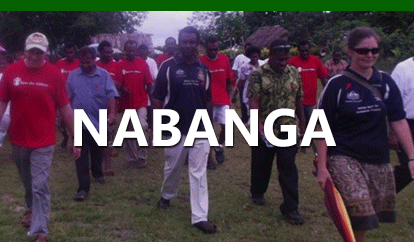 Nabanga uses sports as a vehicle to help communities reduce non-communicable diseases, reduce social problems affecting communities and social cohesion. It is also to help the youth in the communities to run organized sports in their communities and be a leader of their communities. Nabanga Sports for Development is an inclusive sporting program, meaning we include everyone in our sporting programs: men, women, churches, schools, chiefs, youth leaders, young girls and boys and people with disability. Nabanga is working to increase to other provinces and communities in Vanuatu each year. 

Follow us on Facebook for information on initiatives, events and trainings from the Ministry of Youth and Sports through out Vanuatu.